Here's a delicious recipe for a great veggie weeknight meal that your kids will love too!
Baked Spaghetti Squash: Cut in half length wise on cutting board. Use a large spoon to scoop out seeds. Drizzle with avocado oil or EVOO and bake at 400 for 40-60 min. (Mine is usually about 45 min) * I like to add some organic sausage, chopped green pepper and top with red sauce.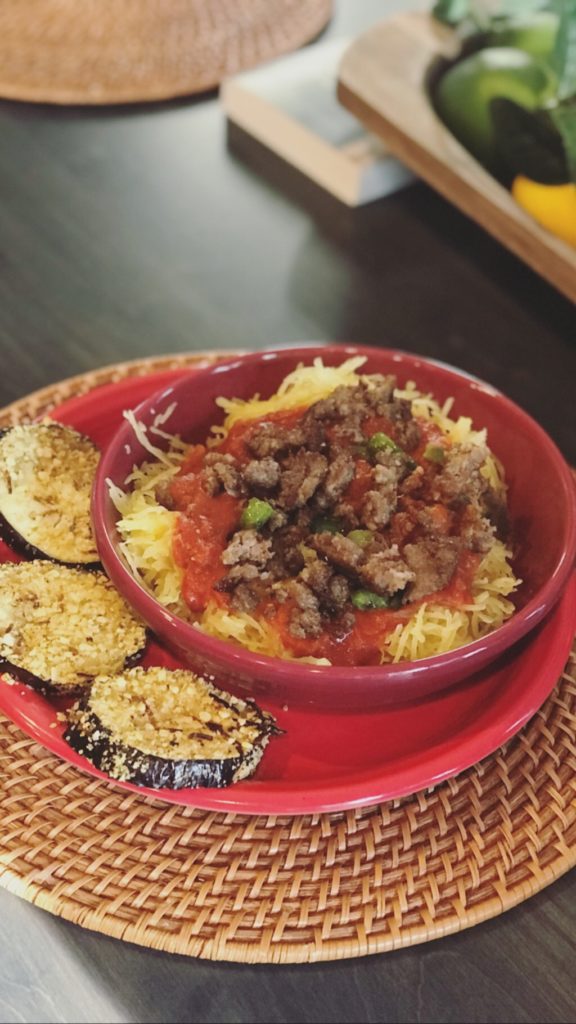 Garlic Parmesan Baked Eggplant
Ingredients
1 large eggplant
2 eggs + 1 tablespoon water
1 cup gluten free panko crumbs
1/4 cup shredded Parmesan cheese
1/4 teaspoon paprika
1/2 teaspoon garlic powder
1/2 teaspoon Italian seasoning
Instructions: Wash the eggplant and trim off the green end. Next, slice eggplant into 1/2″ disks.
Next, mix eggs and water in a bowl. Mix crumbs, spices and Parmesan cheese in another bowl.
Dip each eggplant disk into egg first, then breading mixture. Place on parchment paper lined baking sheet.
Bake in 400 degrees for 15 minutes, and then flip each piece and bake for 7 more minutes. The eggplant should be golden brown and the breading crispy. So good! You can serve this as a side dish, or an appetizer. So good dipping in marinara sauce, too!
Post contains affilate links