We just got back from our first trip to Gatlinburg, TN! My family loves the mountains and hiking and we heard wonderful things about the Smokies, so we had to give it a try. As first timers there were a few things we really loved!
So, I thought it might be helpful to give a little recap for ideas for you for a fun family road trip to the Smokies!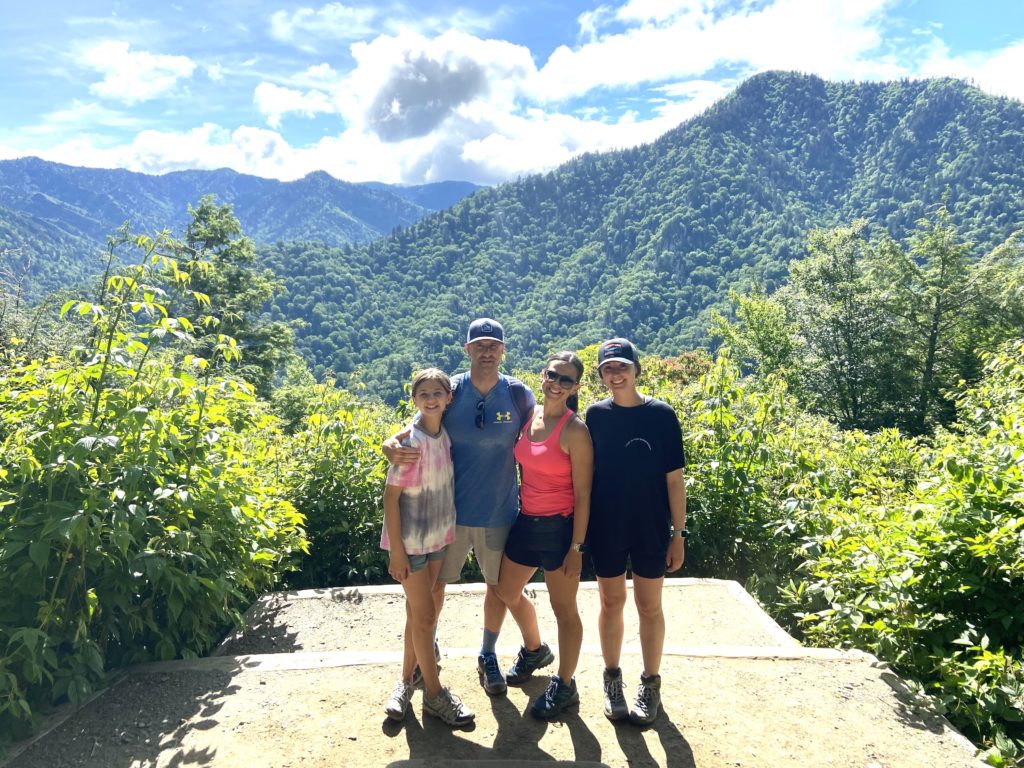 Things that we'd say are "Must-Do's"
If you can get a cabin in the mountains! The place we stayed was absolutely amazing. Highly recommended. It was one of our favorite parts because of the amazing view. And having a game room in the cabin was awesome… we used this area a lot! Here's the link to several options of cabins from the company we used. https://www.heavenscabins.com/
Explore nature and take some hikes! Download the ALL TRAILS app, it's free and will give you all the hikes in the country… but then you can specifically look up hikes around you. In the Gatlinburg area, we hiked Chimney Tops (rated hard) and Peregrine Peak Alum Cave Bluff via Mt. LeConte (rated moderate). We loved them both! NOTE: Chimney Tops is a lot of steep climbing… My 10 year old was able to do it, but we had to keep everyone motivated to keep going. It was all worth it.
As for more touristy things, there are a TON of options for you in Gatlinburg and Pigeon Forge. We were only there 4 days (and one was rainy), so we had to pack a lot in. One our rainy day we tried Ripley's Museum, Dolly's Stampede, and our favorite touristy thing we did was the Titanic Museum attraction. My youngest daughter is fascinated with Titanic and there were several things that super interesting. We all loved it! This was our favorite attraction and would recommend it!
Grab some brochures or search online for discounts to attractions. Sometimes attractions will offer discounts for combo tickets too.
We didn't get a chance to do this, but we heard this is a popular thing to do… Eat at a pancake pantry! You'll see them everywhere. We kept saying we were gonna try and then just didn't get around to it. Next time! 🙂
A few other tips for your roadtrip/vacation…..
Be adventurous, but with caution (Our White Wafter Rafting Story!) …. My family and I went white water rafting and it didn't go so well. About 45 minutes out of Gatlinburg you'll find several places to raft on the river. We used Big Bear Rafting because there was a Groupon and my sister had just went there and liked it. Our guide seemed a little newer, and about halfway down the river our boat flipped on a rapid. Everyone was fine, but for me it was a very scary situation. My husband and 10 year old fell out first, and then I fell in with my oldest daughter quickly after. Everyone in my family was fine, but after I hit the water, the boat fell on top of me and trapped me underneath for a short amount of time. I was able to push myself backwards and get out, but the feeling of being trapped even for a short time caused me to panic and it was an awful experience. My family on the other hand thought it was an adventure and enjoyed the trip. I guess if I didn't get stuck under the boat and panic, I would think the same too. The point is, I regret going…. and I regret taking my 10 year old even though there were several other kids her age in other boats that did just fine. I'm told what happened to us is rare, but still I will not be white water rafting again. And I have been rafting before, in the Snake River in Wyoming… in comparison the boats are bigger out west and I never felt unsafe there. The trip in Tennessee was different.. much smaller boats and to me it felt a little rougher. I had also bought a water proof bag for my phone to take pictures and lost that in the accident as well. So, if you're thinking about rafting just know that accidents can happen and be cautious.
Download the iExit app for your road trip! It's a great free app, to help you navigate what's coming up at each exit in regards to restaurants, gas stations, hotels, etc. Great for any roadtrip!
And since I'm gluten free, I'll share a few restaurants we found that offered great gluten free options!
No Way Jose's Cantina
Cherokee Grill
Calhouns
Dolly's Stampede (Dinner and Show)
Flapjacks Pancake Cabin
Hope this was helpful! And if you're heading to Tennessee I hope you and your family have an amazing time!