This was a game changer… I love how it comes out crispy on the outside but nice and cheesy on the inside!
HOW I MADE IT… (3 simple ingredients)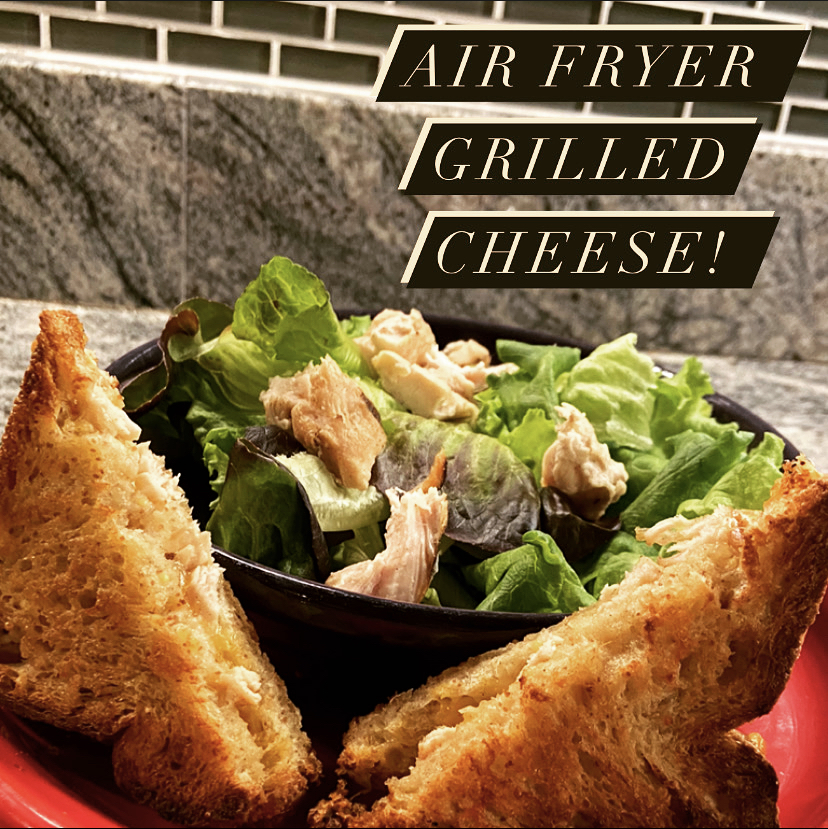 Pick your bread – I think a thicker bread works best. (I use my favorite gluten free brand from Costco)
Butter your bread up generously (*Note I use ghee for mine)
Make your sandwich by adding the cheese (I love organic colby jack cheese from Costco, and add grilled chicken when I have it!)
If needed, use a toothpick to secure the sandwich together by sticking it through the sandwich.
Put your sandwich in the fryer basket and you're set!
Air fry on 380 for 5 min then flip and cook for another 3-5 min (Keep and eye on it, some air fryers may cook a little differently… and thinner bread may cook faster!)
This is the toaster oven / air fryer that I have. I got it for Christmas and love it! I love making broccoli, chicken, sweet potato fries and more in it.
CUISINART TOASTER OVEN/AIRFRYER (I love this one because it does so many things. And… My advice for first time air fryer buyers is get the bigger size. You'll use it.)
This post contains affiliate links, which means that if you click and buy, I earn a commission. The price for you though stays the same. Thanks you! 🙂