Yippee!! This is my favorite time of year. I love sharing gift ideas for our loved ones… so here's some of my favorite items. I'd love to hear your ideas, too!
Here are my top 10 gifts ideas "for her"
1. Custom Handwriting Necklace – This was my favorite Christmas gift of all time. My daughters surprised me with it. One each side, they both wrote in their own handwriting a little message to me. I love you, Momma. And I love you mommy. It is handmade from an Esty seller, so make sure you order with enough time for Christmas. Perfect for Mom, Grandma, Aunt, anyone special in your life!
2. Cookbook Holder (I love this! It has helped me so much in the kitchen reading recipes while I cook!) NOTE: My college daughter asked for one too for studying in her dorm, and loves it!
3. French Press Coffee Maker – Know a coffee lover?! This is the exact french press on my list this year. I've heard nothing but rave reviews, and this one came recommended. I've used the K cups, but want to get away from the plastics, and everyone swears french press is the best.
4. Hydroflask Water Bottle I'm all about making sure I get enough water each day. So, I carry a water bottle with me all the time. I have found that this type, or similar really help me. It has a straw, and for some reason having a straw makes a huge difference for me. This is my secret for getting my daily water amount! (PS – these are super popular with teenagers now too, so a great gift idea for them too!)
5. Personalized Chalkboard Dry Eraser Board – This has been one of my favorite and most useful purchases this year! Our weekly agenda goes up every week, along with our weekly menu. My family loves it and we all contribute! I has helped us so much! And bonus… You can personalize it, and choose what works best for you, and it's super cute!!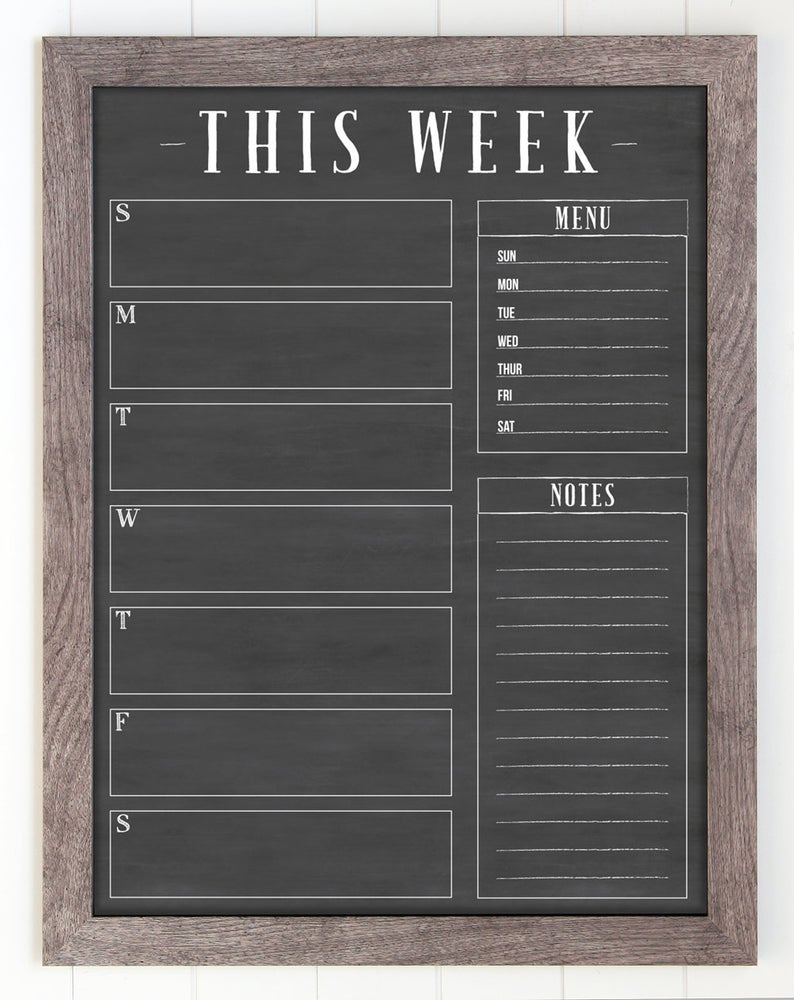 6. Air Fryer! LOVE my air fryer! And YES I use it! Not every day of course, but it's great to make chicken wings, kale chips, sweet potato fries, and so much more. Tons of recipes in Pinterest. MY ONE REGRET is that I didn't get the X-large size. Unless you only have 1-2 people in your room, get the larger one! This is the XL size!
7. Customized Phone Case – I've been ordering these for gifts for years… and they are always a HIT! Remember since these are customized, order early!
8. Anti-Radiation Phone Case – Now, if you're like me… and want to get away from as much radiation (EMF) exposure as possible, you or your loved will love these! I gave these as gifts to 3 people last year, and everyone loves them! They has have card holders inside, so you don't always have to carry a wallet.
9. Weighted Blanket – I love my weighted blanket so much. It helps me fall asleep, feel cozy, and warm. This is the exact one that I have used for over a year now. Great gift!
10. Trigger Point Back Massager – I LOVE THIS. I call it my shepards hook! I gave this as gifts last year too. Now, this is great for ANYONE, not just her. After a long day, it's a great way to massage your triggers points and feel better. My physical therapist actually told me about it!
11. My FAVORITE COFFEE MUG! Yeti Rambler Coffee Mug! Tired of your coffee getting cold too quickly? Like to have that "coffee mug" feeling? Problem solved. I have two of these, they are the best. And only $24.99! Great gift idea under $25!
Please note, this post contains some affilate links.